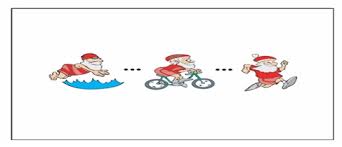 Over the holiday period the club will either host or participate in a number of swimming, cycling and running events and welcome existing, new or potential members to as many as you can muster
SWIM:
Wednesday 19th December - in place of our regular swim training sessions we will be holding a fun swimming gala - please let us know if you plan to come by commenting on our Facebook post. This final pre-Xmas Wednesday swim will be feature the annual 'fun' gala. Racing, t-shirts, skirts, inflatables... all serious (not!) fun. The approximate schedule is:
7pm-7.25pm - normal swim / warm up
7:30-8:40pm - team gala
9pm onwards - join us over the road at Uxbridge Sports Club for a pre-Xmas drink (same venue as awards dinner). Fingers crossed, we'll be putting on sandwiches / chips too for you.
RUN:
Saturday 22nd December - Our parkrun triple will be running as normal at Black Park, meeting at the San Remo cafe at 08:15 for a gentle 30 minute warmup before parkrun proper, followed by a similarly paced cool-down leaving from the cafe after parkrun has finished. Some nice, slow winter miles, run with friends.
BIKE:
Sunday 23rd December - Weather permitting, this will be our last bike ride leaving at 08:15, after which all rides will depart at 09:00 until further notice.
RUN x2:
Christmas Day - not organised by Hillingdon Triathletes but there are two runs on Christmas Day
09:00 - parkrun at Northala fields
10:30 - 5km race run by Hillingdon Athletics Club from their club house at Bury Street, Ruislip
BIKE:
Boxing Day - Weather permitting, there will be an extra ride on Boxing Day, leaving at 9am, which will be a relatively short, 2 hour affair.
RUN:
Saturday 29th December - Black Park's 500th parkrun - let's get out there and support it with a Hilly mob. We'll certainly try for a parkrun triple on that day also if there are enough people about.
BIKE:
Sunday 30th December - Weather permitting, our regular Sunday bike rides will be running, but don't forget, these are at 09:00
BIKE:
New Year's Day - To be confirmed on Facebook nearer the time but it is likely we'll be going out for a short (2 hour) bike ride at 09:00 on New Year's Day