Budi Suryaatmadja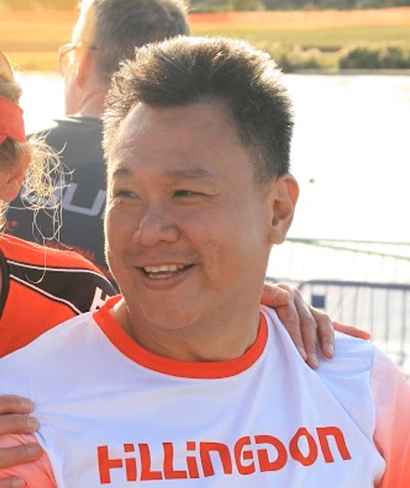 Budi's been a member of the club since 2021. He's an inspiration to anyone who may think they can't participate in, or enjoy sport.
If you know Budi, then you know he'll be your Buddie!
Background
My attitude towards sport is get out there and have fun! In a way that's the story of my life and my philosophy towards living it. I realised early on that if you take some chances, give it go, then you've got nothing to lose and everything to gain.
I would have liked to have been a professional Badminton player. This was partly because it was a popular sport in Indonesia where I was growing up - a bit like lots of youngsters in the UK want to be football players - I did play and I think I was pretty good. My close friends in the Tri club have recently been challenging me to play with them at the local Leisure Centre. It will be interesting to see if I've still got the touch!
I learnt to swim at the age of 10 by sneaking in to the local swimming pool where lessons were taking place. I wasn't there for lessons. I would watch and listen to the coach teaching others how to swim and then try to do it myself. Over time, perhaps as long as one year, I taught myself to swim using the information I'd picked up. Eventually the coach said to me, if you're going to be here every week and listen in to my class then you may as well join in. He let me attend for free and I became quite good. I swam about 3 times a week and competed in local galas.
After 'O' Levels I came to a boarding school in the UK to do my 'A' Levels. I still swam when I could. I moved down from Shrewsbury to University College London (UCL) to study a BSC in economics and statistics. From there on other things in life started to take priority. I set up my own business, got married, had children, etc.
It wasn't until I was in my late 30's that I started swimming again. My daughter had started to have lessons in Northolt Leisure Centre and, as I'd enjoyed swimming when I was younger, instead of travelling home and back to collect her, I started swimming myself whilst I was waiting for her. This is where I met Nigel (my friend and club member) and he told me he knew about Hillingdon Triathletes and we talked about joining.
When I joined the club I was middle aged, married with kids, and living in Hillingdon. I hadn't done any triathlons, hadn't swam regularly or participated in any other sport for nigh of 30 years, and was carrying a little more weight than was good for me. After the Covid 19 pandemic I could see the importance of being healthy. I also wanted to socialise, make new friends, and make full use of my free time. I felt that being active and joining Hillingdon Triathletes might achieve this. Also, and perhaps more importantly, I felt that if I could be disciplined with my planned exercise it would also become a model and way of life for my teenage children.
Run
I joined the club and was ready to give it a go. I'd reached out to Jacqui to join the Tuesday run session. I turned up the first week and joined Dave's group, but the group was just way too fast. Dave suggested I join a slower group. So the next week I joined a different, slightly less able, group but this also was too much for me. Jacqui clearly thought I could actually run! It turns out she'd withheld putting me in the third group, coached by Sarah, with the less experienced runners because, at that time, they were all ladies. Anyway, running out of options, Jacqui asked if I'd like to try the third group. As I said, my philosophy is give it a go, so I accepted and the ladies welcomed me. I attended every week and still do. At first I was not able to run more than a few hundred metres but it was fun and over time my form improved, I got fitter, and I could run further. I was always supported and felt very much part of the group.
Sarah had encouraged me to run more than once a week and to try a Park Run. I'd made good friends in the club, a couple of whom were attending a Park Run each week. I started do a Park Run on Saturday mornings with them. In fact we adopted an approach of picking each other up and travelling together to training sessions so as to encourage each other to go along – it's basically difficult to make an excuse and 'wimp out'. My first 5k park run took me 47 minutes. It was as much a walk as a run. I had, however, completed the distance and was pretty pleased with myself. Not least because I'd laid down a time and I knew I was only going to get faster.
Swim
Heartened by my experience with the running group, I started to regularly attend the club swim sessions too. I was initially in Lane 2 and my first 400m TT time was 8 minutes. Having retained some of the knowledge and skill from my youth I quickly improved and, by now, was exercising several times a week so I was getting fitter and faster. By the end of 2021 I'd achieved 7 minutes for 400m and at end of 2021 I won the Most Improved Swimmer Award at the club awards ceremony. I was genuinely shocked to receive the award. I didn't even know these awards existed. I was delighted with the award, primarily because it was voted for by the other club members. I also appreciated the coaches and what they had done in training me well for the award.
I consider my best sporting performance to be going under 7 minutes s for 400 metres. Having achieved that, some friends and I are now knocking on the door of going sub 6.
Bike
I started cycling with the club in early 2022. I attended the club Joiner Ride at Minet Park. Then, when in early 2022 the club created a new Sunday ride group called Short & Sweet, I joined that group as it was ideal for me. It was led by Mark Eidem and I thought I'd give it go as I felt the target distance was do 'able. I regularly rode out on a Sunday morning, and, by the end of the year, I felt confident enough in my ability to enter Ride London 2023 - 100 miles. This was to be the longest bike ride I'd ever done. I couldn't resist entering as it's an iconic event and I was intending to enjoy the camaraderie of Hilly group of friends that I would be riding with. When the day came, I completed the course comfortably and had a great day out with friends, just as I had hoped.
I have a road bike, but I haven't bought a TT bike (yet). Now that some of the club TT's take place in the safety of Minet Park, true to form, I'll give it a go.
Going forward
I feel it is important to give something back to the club, given everything it has provided to me. So I'm now fully ensconced in the club. I regularly compete and am proud to wear club kit. I also volunteer, usually as part of the event set up team, and I'm also a Team Tigers member.
Training regularly has become part of my life and I feel livelier and happier as a consequence. I'm 3 stone lighter than I was 3 years ago and much, much, fitter.
My philosophy remains go out there and enjoy the training, don't worry about the result as the result will come by itself.
Targets for 2023
Swimming - sub 6 mins for 400m. Currently at 6 minutes 09 seconds.
Bike – Ride London 100m. Achieved 28th May 2023
Run - 30 mins for 5K. Achieved 28th January 2023. I now regularly run under 29 minutes and am targeting sub 26 minutes
Target for 2024
Complete a Half Iron Man ………and get half an Iron Man tattoo!!
Shona Brownlee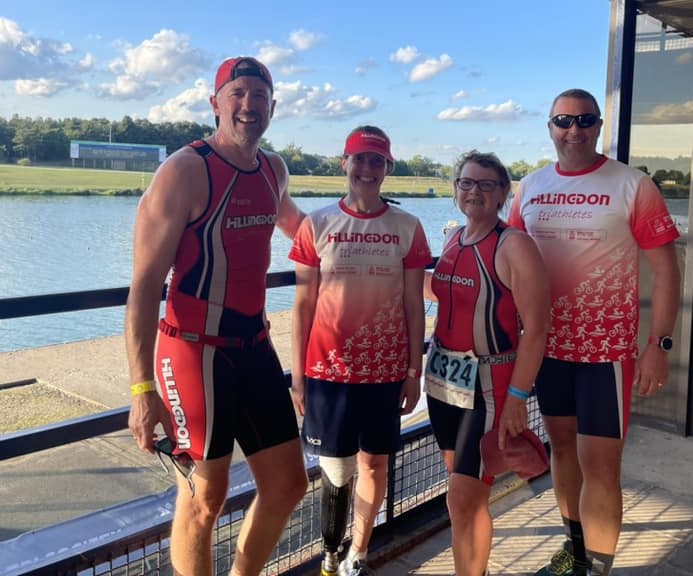 Shona's been a club member since 2020. She's an active member of our club and is an integral part of the Super League's Team Tigers. Shona's a talented athlete and musician, whose story is both admirable and inspirational. Over to Shona……..
I don't have any kind of sporting background and, growing up, I was never particularly interested in sport. It was just something I had to do once a week at school, and I was much more commonly found loitering around the music department. I don't really remember ever wanting to be anything other than a musician. Break times, evenings and weekends were all taken up with music lessons, rehearsals and concerts so there was never really any time for any other interests, and I took myself off to music college to study for a degree and then a postgrad in music performance without any second thoughts of other options. After graduating then spending a few years working as a freelance musician, I landed what seemed like my dream job as a musician in the RAF – a full-time performance job with great benefits and the opportunity to travel the world! I was set for life.... or so I thought.
I didn't even make it out of training before everything changed as I was injured during the final exercise of basic training. What initially seemed like a straightforward ankle injury failed to heal as expected and developed complications, leaving me hopping around on crutches and destroying any certainty I'd felt about my future.
Whilst undergoing intensive rehab at the Defense Medical Rehabilitation Centre (DMRC) at Headley Court, I found out about the Battle Back programme; a joint initiative between the MoD and Help for Heroes which provided adventurous training opportunities to wounded, injured and sick military personnel. I was given the opportunity to attend an adaptive skiing trip to Bavaria and at the time, I thought it would be a welcome distraction and the chance to take a bit of a break from what felt like slogging away unproductively in the rehab gym. Little did I know then what that opportunity would lead to!
Having never skied before, after initially being terrified, I thoroughly enjoyed the trip although I wouldn't exactly say I was a natural – I seemed to spend a lot of time sliding down the mountain headfirst, or performing inadvertent sitski gymnastic maneuvers, or ending up in ditches! But unexpectedly, I fell in love with skiing. I loved the challenge of it, and I loved the sense of freedom that it gave me. I loved the fact that my injury didn't matter and even though, in a sitski, I was skiing in a slightly different way to what was considered the norm, I was still out on the same mountains skiing the same slopes as everyone else. But perhaps the biggest thing of all, I loved that for the first time since my injury, I felt that I had achieved something.
I fully expected that trip to be both the beginning and the end of my skiing career as adaptive ski equipment is not readily available and is prohibitively expensive so I didn't see how I would have the opportunity to continue. That opportunity came when I was invited to join the Armed Forces Para-Snowsport Team (AFPST) who were able to loan me the equipment I needed and also provide the coaching and support to enable me to progress to skiing independently. AFPST also introduced me to ski racing and I had my first race experiences at military skiing championships.
By then, I was a few years post-injury with several failed surgeries under my belt and no significant improvement to the injury. In fact, if anything, it was deteriorating and the future looked pretty bleak, with a useless leg and confined to life on crutches. With no other treatment options remaining, I made the decision to have a below-knee amputation in an effort to improve my quality of life. Shortly after the amputation, I was classified as a para-alpine ski racer and by the end of my first season of international racing (2019/20), I was the female British champion, had won 2 gold medals at Europa Cup competition and finished 3rd overall in Europa Cup over the whole season. Initially seeming like a pipe dream, the prospect of competing at the Winter Paralympics in Beijing in 2022 was looking more achievable.
The onset of the Covid-19 pandemic brought a temporary halt to training and racing but by summer 2021, I had qualified for and was selected as part of the GB Para-Alpine World Class Programme. At the same time, I was granted a place on the RAF's exclusive Elite Athlete Scheme which enables selected personnel to take time away from their primary role to train full-time. Having the opportunity to really focus on training and skiing made a huge difference and, following 2 bronze medals in my first World Cup competition, I was selected to compete at the Para-Alpine Skiing World Championships in Lillehammer in January 2022 where I won silver and bronze medals. This led to selection for the Paralympics GB team to compete at the Beijing 2022 Winter Paralympics which was an incredible yet unbelievable experience. Going from complete novice in 2019 to the Paralympic Games in 2022 was beyond any of my wildest expectations.
My sporting journey hasn't been limited to skiing and through Battle Back, I've also been introduced to a variety of other adaptive activities. I did a climbing and abseiling course 3 months post-amputation, I've been whitewater kayaking and qualified as an instructor, I've learned to waterski and taken part in a host of other sports including ice-skating, rowing, horse riding, trampolining and even a tandem parachute jump, grasping every opportunity that came my way.
Like learning to ski, my introduction to triathlon also came about by chance in May 2019. My ski coach at the time was a keen triathlete and had told me about the fully inclusive Superhero Tri event at Dorney Lake. At that point, I was re-learning to cycle and run again post-amputation, so I decided that entering the Superhero Tri would be both a good rehab goal and an opportunity to raise money for AFPST. I was woefully unprepared, having ridden a road bike for the very first time only a week prior and having never done either an open-water or a wetsuit swim before the actual event. I was fully expecting to have to grit it out and simply tolerate getting round the 3 disciplines, tick 'complete a triathlon' off my bucket list and then never think about it again. But again, I surprised myself by how much I enjoyed the event, so much so that after finishing, I promptly entered and completed another triathlon 2 weeks later!
I heard about Hillingdon Triathletes from a colleague just as the world was emerging from lockdown. Having spent a lot of solitary time pounding pavements during the pandemic, I thought that joining a club would be a good way to meet some like-minded people, to have some company whilst training and also take part in focused training sessions as opposed to just plodding round the streets or paddling aimlessly up and down the pool!
Joining Hillingdon Triathletes was the best decision I could have made. From the outset, and without exception, everyone has been so friendly and welcoming despite my lack of experience (and skill!). My amputation has never been treated as a problem or a barrier and I'm invited and encouraged to take part in the same events as everyone else. In fact, the only time my amputation is ever mentioned is when someone is checking whether there is anything that can be done to help, and on the rare occasion I will admit to needing assistance, such as having my crutches moved from 'swim out' to 'swim in' so I can get back to transition, there is always someone more than willing to offer support (thanks Boo!). I've been welcomed into a Super League team, and I love the sense of camaraderie throughout the club. My highlights so far have definitely been taking part in both the Club Champs and National Relays in the summer of 2022. Despite the inevitable yet friendly rivalry between teams, it was such a supportive environment, regardless of individual ability, and really motivating to hear club members encouraging and cheering each other on throughout. It is in no small part due to the excellent coaching, advice and encouragement and overall supportive atmosphere of the club that I was crowned British Para-triathlon Champion in July 2022.
Others may see my amputation as a negative thing, a hindrance in everyday life but in actual fact, it is the complete opposite. To me, using a prosthetic is not a disability, rather it enables me to do more and although my life has taken a completely different path than I expected when first injured, it has opened my eyes and led to so many new opportunities that I would never have previously considered.
However, the journey hasn't ended yet. An unfortunately-timed broken collarbone put an end to my campaign for the Para-Alpine Skiing World Championships this year, but this time the injury is recovering and healing well, and I will be back stronger than before with my sights firmly set on the Winter Paralympics in Milan-Cortina 2026.